Jim McKaba brings his 30-year background in blues and R& B together with a group of veteran musicians to lead his current group, the After Hours Band.  Jim's musical performance history dates back to the early 1970's. At that time, great opportunities existed to perform with fathers of the blues idiom including Muddy Waters, Eddie Taylor Jimmy Rogers, Pinetop Perkins, Big Walter Horton, Fred Below, S P Leary, and many others. The influence of his experience with these musicians guides Jim's playing and arranging today. It also helped him develop the versatility that is often called upon when supporting other artists as a sideman or bandleader, and in leading his own bands on the piano or theHammond organ.
Jim has performed on blues festivals, concert stages and clubs for over 30 years, including Spring the Blues festivals 1993 – 2009, the Philadelphia Riverfront Blues Festival in 1993, the Amelia Island Blues Festival 2002, South Florida Boogie Piano Fest 2011 and 2012, opening act for Sonny Terry and Brownie McGhee in 1976, Gatemouth Brown in 2003, and many other memorable performances as both an accompanist and bandleader.
In a recent project, Jim performed and recorded with 1940's blues great Crown Prince Waterford and co-produced the critically acclaimed CD All Over But The Shoutin'.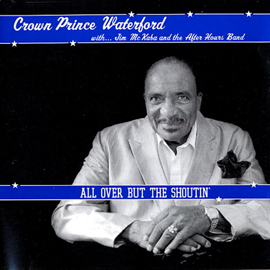 In 2006 Jim and his band toured France and headlined the blues stage at the Rendez-vous d l'Erdre festival in the city of Nantes. The band also released their second CD; The After Hours Band. In 2014 Jim was a featured artist at the 4th annual Blues Sur La Plage concert in Pornichet, France.
Jim McKaba and The After Hours Band stays in tradition and keeps the dance floor full with blues, funk, and jazz. The band includes Jim on piano,Hammond organ and vocals, with Florida blues and jazz greats including Josh Miller (guitar), Ben Champion (saxophone), Jon Buck (drums), and Ray Satcher (bass).
Contact Jim at jimmckaba@comcast.net